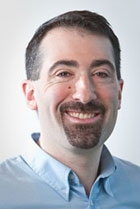 Date:
Thursday, April 20, 2017 - 4:00pm
Speaker:
Peter Tessier - Rensselaer Polytechnic Institute
Abstract:
The biotech industry has seen an explosion in the development of therapeutic antibodies in the last decade, and today most of the top selling drugs are monoclonal antibodies. The advantages of antibodies as therapeutics – namely their high affinity, specificity, potency, stability, manufacturability and low toxicity – are compelling. Nevertheless, there are many fundamental challenges associated with antibody discovery and development that require key technical advances to improve the rational and reliable generation of potent antibody therapeutics. I will discuss our progress in addressing some of these fundamental challenges, including the design, evolution, selection and characterization of antibodies with high affinity, specificity, stability and solubility.  
Bio:
Peter Tessier is an associate professor of Chemical and Biological Engineering and a member of the Center for Biotechnology and Interdisciplinary Studies at Rensselaer Polytechnic Institute in Troy, NY. He received his B.S. in Chemical Engineering from the University of Maine (1998, Valedictorian), and his Ph.D. in Chemical Engineering from the University of Delaware (2003, NASA Graduate Fellow). Tessier performed his postdoctoral studies at the Whitehead Institute for Biomedical Research at MIT (2003-2007, American Cancer Society Fellow). Tessier's research focuses on designing, developing and optimizing a class of large therapeutic proteins (antibodies) that hold great potential for detecting and treating human disorders ranging from cancer to Alzheimer's disease. He has received a number of awards in recognition of his pioneering work, including the Pew Scholar Award in Biomedical Sciences (2010-2014), National Science Foundation CAREER Award (2010-2015), Rensselaer Early Career Award (2012), and Rensselaer School of Engineering Research (2012) and Teaching (2013) Awards.