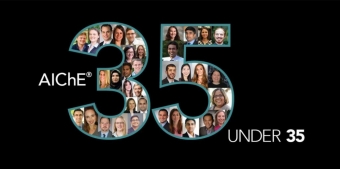 Congratulations to B.S. alum Christina Borgese who was recently named one of AIChE's 35 under 35! Borgese is the cofounder and Director of Engineering and Development at PreProcess, Inc., a company she cofounded in 2010 with fellow UCSB alum Marc Privitera. As Director of Engineering and Development, she develops and scales innovations in a variety of industries, where she applies chemical engineering unit operations to nontraditional applications. 
While at UCSB, Borgese participated in UCSB TMP's Technology Management Certificate, a program that provides a path for innovative and dedicated students to gain in-depth understanding of cutting-edge entrepreneurial and business practices in global-technology based companies and helped spark her interest in scaleup. She was also involved in restarting UCSB's AIChE student chapter, and served as chapter president. 
Borgese regularly returns to campus to volunteer, coaching students in professional development and sharing her industry experiences.
Read more about Christina Borgese and the rest of AIChE's 35 under 35 here