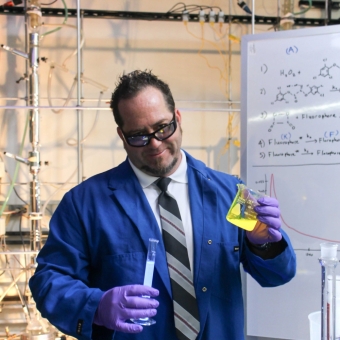 Dano Pagenkopf received his BS in Chemical Engineering from UCSB in 2013. After graduation he got a job on campus in the machine shops before coming back to the Chemical Engineering Department in 2015 as the Undergraduate Lab Manager. We asked Dano a few questions about his background, his experience as a student, and what he's up to now. Read on to see what he had to say!
Tell us about your background and your time at UCSB.
I joined the Navy to be a Deep-Sea Diver but came out a Nuke! I completed Nuclear Field "A" School, Nuclear Power School, and the Department of Energy's Nuclear Power Training Unit for the U.S. Navy to graduate as a Nuclear Engineer. I supervised the operation of a nuclear reactor on the USS Carl Vinson, an aircraft carrier, during the gulf war. We did a lot of reactor chemistry so I have some great sea stories. Then I earned my commercial diving license and began my career as a deep-sea diver. I worked on Lake Cachuma, several of the oil rigs off Santa Barbara, laid the fiber optic cable from Japan to California and was even James Cameron's lead diver/submarine pilot. I am in one of his documentaries called "Aliens of the Deep". I am also a certified EMT and Rescue Diver. After getting custody of my daughter, I needed to spend more time topside so I took advantage of my GI Bill and went to college.
While attending Santa Barbara City College, I conducted research in Anthony Cheetham's MRL lab synthesizing phosphors for LED lighting. After I transferred to UCSB, I served as an intern in the Molecular Beam Epitaxy lab growing gallium nitride, the semiconductor that drives all white light emitting LED bulbs. Proving to be an eager pupil, I was taken on by Shuji Nakamura's bulk gallium nitride group. As a single parent in need of money with a strong machining and engineering background, they brought me in as a paid intern/researcher and I stayed on with this lab until after graduation. I did get to grow a GaN crystal but my focus was in crystal characterization. I cut, polished, planarized, and wet-etched GaN. I would look at the crystals with Scanning Electron Microscopy, High res X-ray and Atomic Force Microscopy. Some of my work was accomplished in the clean room and featured on the cover of a SSLEC publication. Pretty cool for an undergrad! My biggest goal was to graduate college before my daughter got out of high school.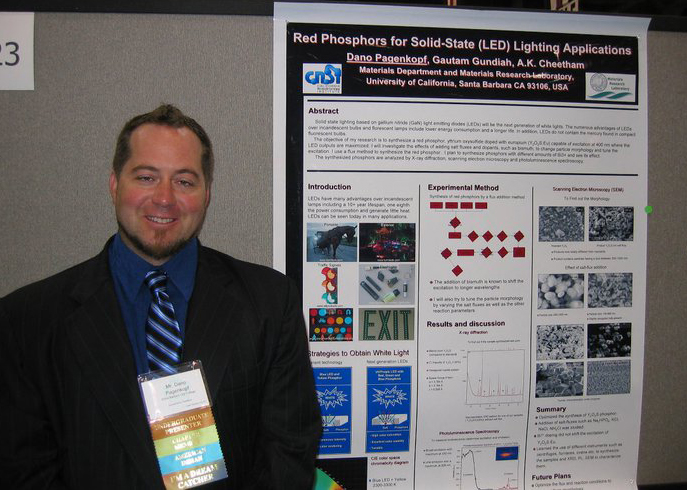 And now you're back in the Chemical Engineering Department as the Undergraduate Lab Manager! Tell us about that.
Best job ever! I get to work with young people that share a passion for Chemical Engineering. Having persevered through the same program, I have a great deal of empathy for the students. I have a vested interest in seeing that they get the best possible education and experience that we can provide. I like exposing them to a hands on experience with valves, pumps and gauges that you don't get in a book. The lab has improved so much since I went through but there is still room for improvement. Unfortunately, good ChE equipment carries a hefty price tag. I can't say enough good things about the ChE staff and faculty, everyone cares, goes above and beyond and supports any ideas that I may have to benefit the lab. Having worked in other departments at UCSB, that is not always the case.
When I'm not teaching the lab I am fixing experiments that break, researching/building new ones, using the machine shops or writing code in LabVIEW. Sometimes I feel like Bill Nye (the Science Guy). I love giving tours to incoming freshmen and their parents. Cloud chambers, Particle Image Velicometry, liquid nitrogen and distillation columns…OH MY!
I also serve as the Departmental Safety Officer and backup Building Manager. Safety first people!
Why did you choose to come to UCSB?
My Daughter did not want to move to Merced. You know, cow pastures vs. campus point. Surfing vs. plowing. Kind of a no brainer.
How did your degree from UCSB Chemical Engineering get you where you are today?
The day before I graduated, I popped the question to my wife at inspiration point. From there we went on a pilgrimage (Camino Santiago) where we hiked across Spain. Her family and career are rooted here in Santa Barbara so on our long walk we decided to stay here. I took a temporary job as a Prototype Development Engineer in the machine shops here at UCSB. They were looking for someone with an engineering degree and I had a lot of experience welding/machining so it was a good fit. At the time I didn't know how sought after a UCSB staff position is and how great the benefits are. As soon as the position for the ChE Lab Manager opened up, I jumped at it. I already knew most of the staff from my time as a student and it was in my field.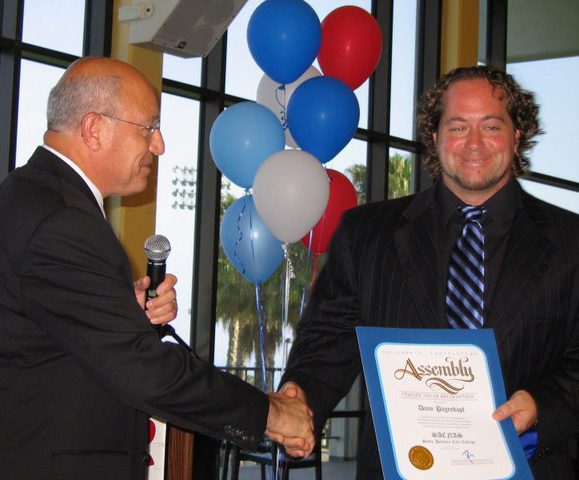 What advice would you give to current and future students at UCSB?
Something that one of my professors told the class when we were all tired and burnt out from one of our other classes, "It is not forever, it will be worth it in the end." It was hard work and suffering actually builds character and strong relationships. I am still very close to many of my ChE peers. For many people it will be one of the most challenging endeavors you will ever undertake. The flip side of that is that it will also be one of your proudest accomplishments. Chemical Engineers are often called "Universal Engineers" because we do it all. We can slide in to any field of engineering but no one else can do ChE. It is always cool to tell people that you are a chemical engineer, that title carries a lot of respect.
Anything else to share?
Undergrads are people too!