EVENTS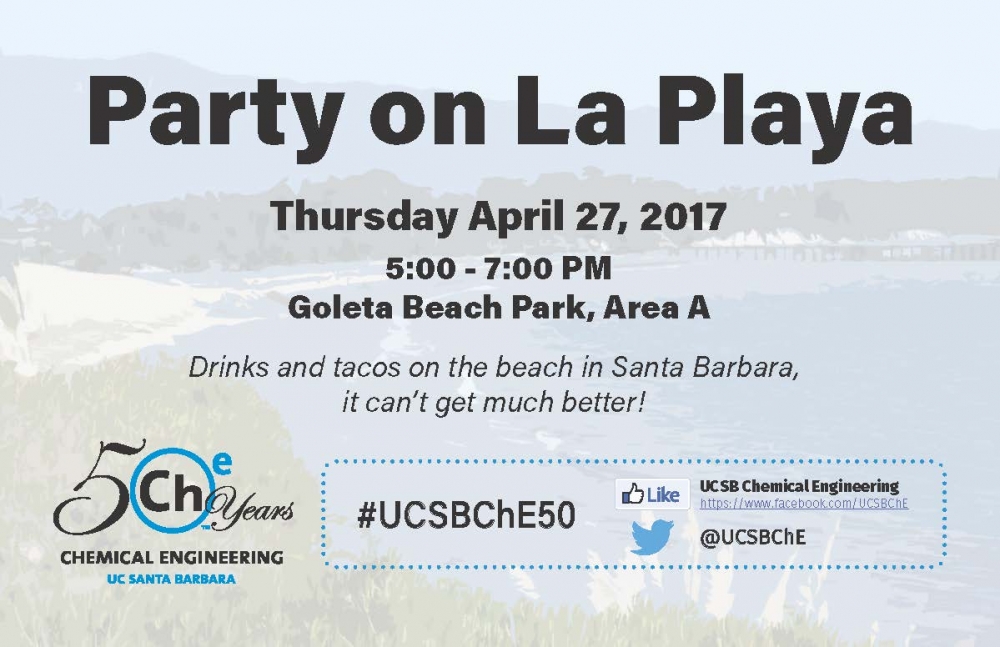 Party on La Playa | Thursday April 27, 2017 | 5:00 PM
Area A Goleta Beach - Drinks and Tacos on the beach in Santa Barbara, it can't get much better.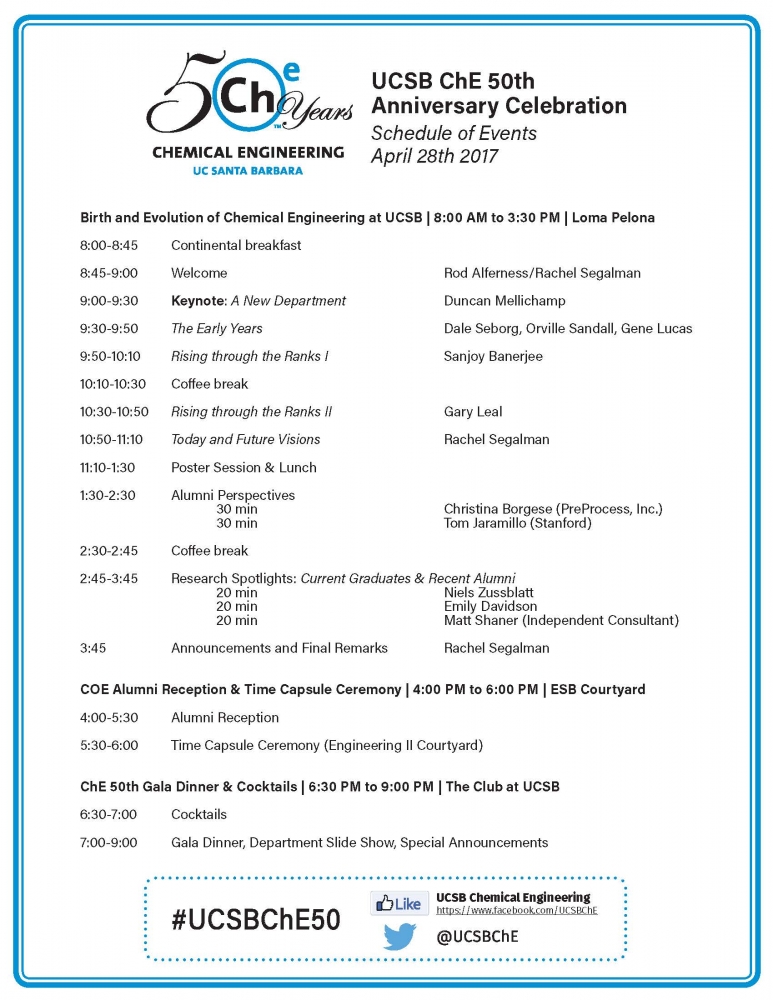 Chemical Engineering 50th Anniversary Celebration | Friday April 28, 2017 | 8:00 AM to 3:45 PM
Loma Pelona Center (map) - Celebrate the past, present and future of Chemical Engineering at UCSB. Presentations by Distinguished Faculty, Emeriti and Alumni highlighting 50 years of service, lunchtime Poster Session highlighting the work of current graduate students. Breakfast and Lunch will be served. Space is limited.
College of Engineering Alumni Reception & Time Capsule Ceremony | Friday April 28, 2017 | 4:00 PM to 6:00 PM
ESB  Courtyard (map) - An opportunity to reconnect with fellow engineers from your class, reminisce about your first engineering achievements, and recognize your contributions to our rich history.
Chemical Engineering 50th Anniversary Dinner | Friday April 28, 2017 | 7:00 PM to 9:00 PM
The Club at UCSB - The 50th Anniversary Celebration Finale. Space is limited.
Thank you to the over 150 alumni, emeriti, faculty, students, and staff who joined us in celebrating the Chemical Engineering Department's 50th Anniversary!
Check out photos from the 50th events here
The UCSB Department of Chemical Engineering was founded in 1966 by Professor Emeritus Robert Rinker, who was hired by UCSB in 1965 to form the department. Rinker recruited Jack Myers, the first chair of the Chemical Engineering Department. And together they recruited additional faculty members, including Duncan Mellichamp and Orville Sandall, to help shape and grow the department. The first Bachelor of Science degree was awarded in 1968, the first MS degree in 1969, and the first PhD in 1971.
Over the past 50 years the Chemical Engineering Department has grown in both size and prestige, and our graduate program is frequently ranked within the top ten chemical engineering graduate programs in the country. UCSB Chemical Engineering's research activities are at the cutting edge in the areas of materials and interfaces; bioengineering; energy, efficiency, and sustainability; and modeling, theory & simulation. Read more about our recent department and faculty accomplishments here.