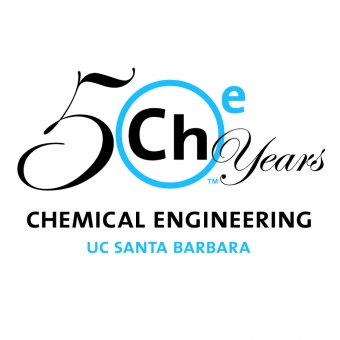 Tuesday, October 18, 2016
The Chemical Engineering Department is celebrating our 50th Anniversary this year! The UCSB Department of Chemical Engineering was founded in 1966 by Professor Emeritus Robert Rinker, who was hired by UCSB in 1965 to form the department. Rinker recruited Jack Myers, the first chair of the Chemical Engineering Department. And together they recruited additional faculty members, including Duncan Mellichamp and Orville Sandall, to help shape and grow the department. The first Bachelor of Science degree was awarded in 1968, the first MS degree in 1969, and the first PhD in 1971.
Over the past 50 years the Chemical Engineering Department has grown in both size and prestige, and our graduate program is frequently ranked within the top ten chemical engineering graduate programs in the country. UCSB Chemical Engineering's research activities are at the cutting edge in the areas of materials and interfaces; bioengineering; energy, efficiency, and sustainability; and modeling, theory & simulation. Read more about our recent department and faculty accomplishments here.
CLICK HERE FOR INFORMATION ABOUT THE UCSB ChE 50th ANNIVERSARY CELEBRATION APRIL 27th & 28th 2017