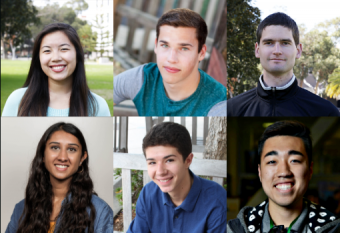 Engineering Excellence: College of Engineering Salutes Class of 2019
The academic paths of hundreds of UC Santa Barbara students will intersect on the Commencement Lawn during the College of Engineering's 2019 graduation ceremony on Saturday, June 15. More than 360 undergraduate students have completed the requirements to earn bachelor's degrees in either chemical engineering, computer engineering, computer science, electrical engineering, or mechanical engineering during the 2018-19 academic year. 
A handful of graduates will receive special commendations from the College of Engineering for outstanding academic performance and service to the university. 
Outstanding Seniors
Each year, the college recognizes as an Outstanding Senior, the graduating senior with the highest cumulative grade point average from each degree program. This year's Outstanding Seniors are Dorian Bruch (chemical engineering), Hyun-Bum Cho (computer science), Kyle Douglas (electrical engineering), Sayali Kakade (computer engineering), and Thomas Fork (mechanical engineering). 
Click to read more on the College of Engineering website.