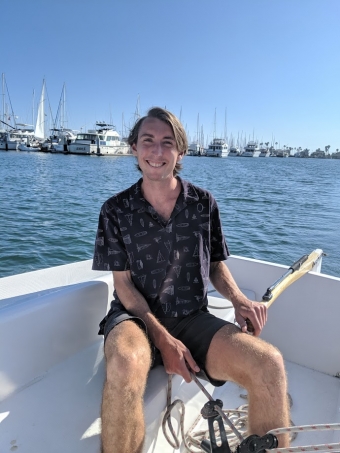 Thursday, January 2, 2020
The faculty of the Department of Chemical Engineering awarded George Degen the Schlinger Fellowship for Excellence in Chemical Engineering Research for the period 2019-20, as evidenced by publications, submitted manuscripts or other measures of impact. 
"We had many excellent applications this year, and I wish that we had more awards to give," said M. Scott Shell, Department of Chemical Engineering Professor and Vice Chair for Graduate Education. "Wishing George and all of our graduate students continued creativity, discovery, and success in their doctoral studies."
Established through a generous gift from Warren and Katharine Schlinger, the award recognizes outstanding accomplishments in doctoral research in Chemical Engineering. The Fellowship is open to all graduate students in their fourth or fifth year of the doctoral program in the Chemical Engineering Department at UC Santa Barbara, and is not restricted to any particular areas of research.
The Schlinger Fellowship acknowledgement is an honor for Degen, who plans to enhance his experiences through conferences and travel.
"Chemical Engineering is a tight community, so it feels special to be selected for this award by the people I've connected with personally and professionally," Degen shared. "I've reached the later stages of my graduate studies, and I'm excited by the chance to share the results of my research!"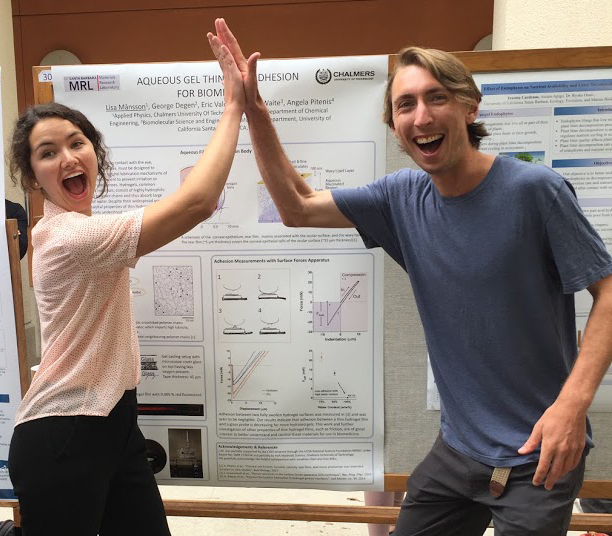 Degen's research includes work with the Israelachvili group, and his current advisors are Joan-Emma Shea and Angela Pitenis. He was a Best Talks winner at the 12th Annual Amgen-Clorox Graduate Student Symposium held on October 15, 2019, and was also the Grand Prize winner of the 7th Annual UC Santa Barbara Grand Slam Finals Competition in April 2019. 
His current research focus is to understand how marine mussels stick so strongly to surfaces under water. 
"By contributing to a better understanding of mussel adhesion, I hope to enable the design of improved adhesive for use in wet, salty environments, including the human body," Degen shared.
One of the more challenging aspects of his research is the many complicated factors of mussel adhesion that enable mussels to stick, including the way that the mussels create solid adhesive pads out of liquid precursors, the shape and composition of those pads, and the variety of proteins that the mussels use as glues to anchor the pads to surface. 
"I study one component of mussel adhesion – the binding mechanisms of the protein glues – but the beauty of mussel adhesion is how all of those components work together to allow the mussel to live in harsh environments," Degen said. 
The Shea Group focuses on developing and applying techniques of statistical and computational physics to the study of biological problem.
Degen reminds incoming Chemical Engineering graduate students that UCSB is a collaborative university, and that it's important to take advantage of the diverse skillsets of labs both within ChE and in other departments. 
"Pick an advisor and project that will give you the experience you need for whatever you want to do after grad school. Depending on your project, seek out collaborations with your peers," Degen shared. 
When he's not working on his studies and research Degen enjoys running along the bluffs on campus overlooking the ocean, and biking in the mountains. He also likes picnicking while wine tasting in the Santa Ynez Valley and baking sourdough bread. 
"Santa Barbara is a great place, so explore it while you're here," Degen exclaimed. ChE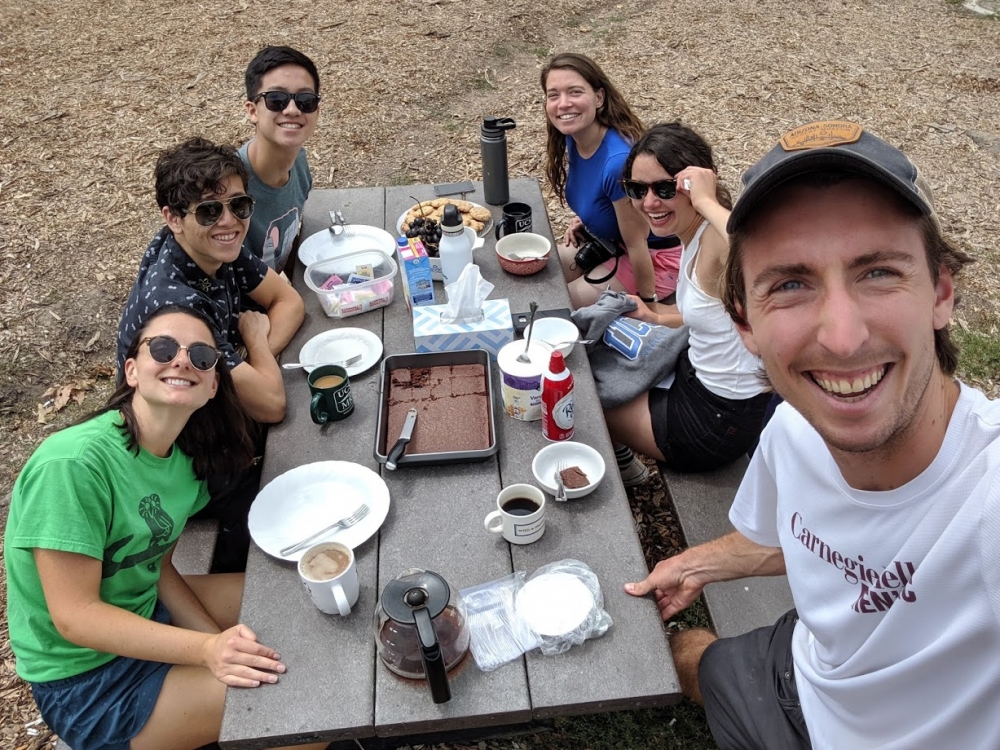 –Melissa Walker is the Communications Coordinator for the Department of Chemical Engineering.