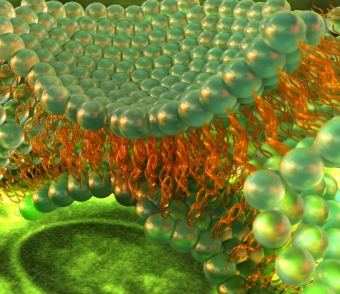 Cells are biological wonders. Throughout billions of years of existence on Earth, these tiny units of life have evolved to collaborate at the smallest levels in promoting, preserving and protecting the organism they comprise. Among these functions is the transport of lipids and other biomacromolecules between cells via membrane adhesion and fusion — processes that occur in many biological functions, including waste transport, egg fertilization and digestion.
At UC Santa Barbara, chemical engineers have developed a way to directly observe both the forces present and the behavior that occurs during cell hemifusion, a process by which only the outer layers of the lipid bilayer of cell membranes merge. While many different techniques  have been used to observe membrane hemifusion, simultaneous measurements of membrane thickness and interaction forces present a greater challenge, according to Dong Woog Lee, lead author of a paper that appears in the journal Nature Communications.
"It is hard to simultaneously image hemifusion and measure membrane thickness and interaction forces due to the technical limitations," he said.
However, by combining the capabilities of the Surface Forces Apparatus (SFA) — a device that can measure the tiny forces generated by the interaction of two surfaces at the sub-nano scale — and simultaneous imaging using a fluorescence microscope, the researchers were able to see in real time how the cell membranes rearrange in order to connect and open a fusion conduit between them. The SFA was developed in Professor Jacob Israelachvili's Interfacial Sciences Lab at UCSB. 
Read the full story at: