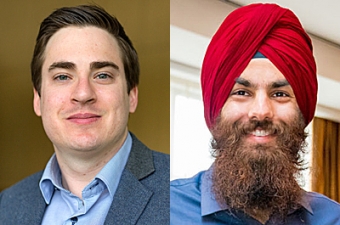 Congrats to our graduate alumni Bryan Goldsmith and Nirala Singh who will both start as assistant professors in the University of Michigan's Department of Chemical Engineering later this year! Bryan Goldsmith received his PhD in 2015 with Professor Baron Peters, Nirala Singh also received his PhD in 2015 with Professors Eric McFarland and Horia Metiu.
Goldsmith's research group will use electronic-structure theory and molecular simulation, as well as data analytics tools, to understand catalysts and materials under realistic conditions, and to help generate a platform for their design and use in chemical synthesis and pollution reduction. Singh's research group will focus on developing electrochemical methods and catalysts to store and use renewable electricity. This includes flow batteries for energy storage, production of fuels and chemicals from renewable electricity or directly from sunlight, and electrochemical treatment of wastewater.
For more information about their research, and their new positions, check out the article from Michigan Engineering.