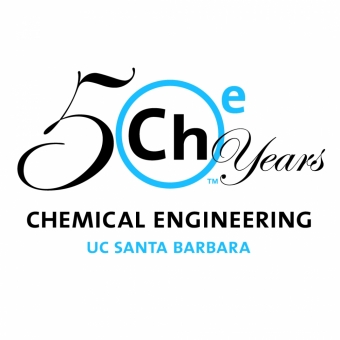 Thank you to the over 150 alumni, emeriti, faculty, students, and staff who joined us in celebrating the Chemical Engineering Department's 50th Anniversary!
Founding members Duncan Mellichamp, Dale Seborg, Orville Sandall, and Gene Lucas all spoke at the day's event, sharing annecdotes and memories from the founding and early years of the department. Current and former department chairs Rachel Segalman, Gary Leal, and Sanjoy Banerjee also spoke about the growth of the department to it's current ranking of #2 Graduate Research Program (per the most recent National Research Council report) and their vision for the future. We closed out the program with alumni perspectives from Christina Borgese, Tom Jaramillo, and Matt Shaner, as well as research talks from grad students Niels Zussblatt and Emily Davidson.
In addition to the day's event, alumni, emeriti, faculty, students, and staff also enjoyed catching up and reminicing during a dinner at The Club, the College of Engineering's 50th Anniversary Reception & Time Capsule Ceremony, and a "Party on La Playa" the day before at Goleta Beach. Photos from our 50th events are below, and check out more photos from the College of Engineering's event here.
For more information on our alumni communities and how you can keep in touch for future events, visit our alumni page!