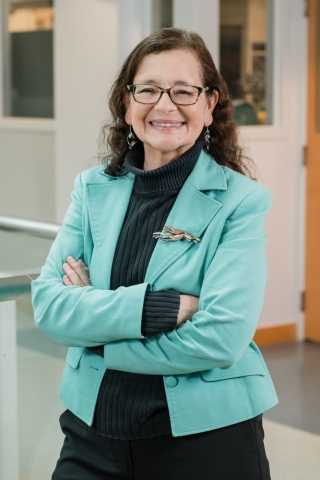 Date:
Monday, October 10, 2022 - 9:00am
Speaker:
Jennifer Holmgren - CEO of LanzaTech
Abstract:
We must treat Climate Change as the true crisis it is and accelerate the implementation of all new approaches to support our war on carbon.
We must treat deployment of new fuels to address climate change in the same way as we did for COVID vaccines – pursuing all possible technology solutions with an eye to the future. Innovation and Industrial biotechnology hold the key, with a variety of new approaches being commercialized to reduce carbon and produce the things we use in our daily lives.
We currently recycle metals, plastics and paper - so why not recycle carbon?
There is an abundance of carbon locked in wastes from agriculture, forest, unsorted, unrecyclable municipal wastes and in gaseous byproducts of certain manufacturing processes. Biotechnology enables us to convert carbon pollution into everyday products, turning our carbon problem into an economic opportunity keeping the skies and oceans clean and blue for all! 
LanzaTech has developed a gas fermentation technology that recycles carbon rich industrial off gases from many industries into fuels and chemicals. This technology is operating at commercial scale and represents a novel biological pathway for low carbon fuel and chemical production, while adding value to industrial waste streams. This approach embodies the circular economy taking waste streams to make new products with reduced environmental impact and helping businesses and consumers reach a post-pollution reality.
This presentation will address the scaling up of carbon recycling technology and what it takes to cross the Valley of Death as an innovator!
Bio: 
Dr. Jennifer Holmgren is CEO of LanzaTech. Under Jennifer's guidance, LanzaTech is developing a variety of platform chemicals and fuels, including the world's first alternative jet fuel derived from industrial waste gases. She is also the Director and Chair of the LanzaJet Board of Directors. Prior to LanzaTech, Jennifer was VP and General Manager of the Renewable Energy and Chemicals business unit at UOP LLC, a Honeywell Company. While there, she was a key driver of their leadership in low carbon aviation biofuels.
Jennifer has authored or co-authored 50 U.S. patents and more than 30 scientific publications and is a member of the National Academy of Engineering. She is on the Governing Council for the Bio Energy Research Institute in India. The institute has been set up by the DBT (Department of Biotechnology, Indian Government) and IOC (Indian Oil Corporation). She also sits on the Advisory Council for the Andlinger Center for Energy and the Environment at Princeton University, the Halliburton Labs Advisory Board, the Universiti Teknologi PETRONAS International Advisory Council, and the Founder Advisory for The Engine, a venture capital fund built by MIT that invests in early-stage science and engineering companies.
Jennifer holds a B.Sc. degree from Harvey Mudd College, a Ph.D. from the University of Illinois at Urbana-Champaign and an MBA from the University of Chicago.