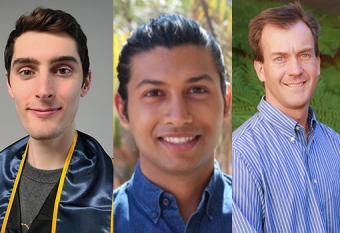 The results for end-of-year awards are in. The graduating seniors from the Chemical Engineering Department have spoken, selecting the 2022-'23 Faculty and Teaching Assistant of the Year. In addition, the College of Engineering recognized the graduating seniors with the highest cumulative grade point average in each degree program. Read about the award recipients below.
Outstanding Senior
Will Borlik has been an active member of the COE community, working as an undergraduate research assistant and joining the campus chapters of Tau Beta Pi, the nation's oldest engineering honor society, and the American Institute of Chemical Engineers (AIChE). He also worked as a research assistant, modifying cell genomes and performing cell and bacterial cultures. He is graduating with high honors and a cumulative 3.97 GPA, which garnered him the 2022-'23 Outstanding Senior Award in Chemical Engineering.
"The opportunities provided by these organizations and undergraduate research have allowed me to develop my own experiences and learn from the experiences of others," said Borlik. "My time at UCSB has prepared me for my next steps by challenging me to continuously learn and push the boundaries of what I thought I was capable of doing."
Borlik plans to return to the Bay Area after graduation to work in the biotechnology industry. 
Outstanding Faculty 
Todd Squires joined the Chemical Engineering Department in 2005. Since then, the chemical engineering professor has amassed numerous recognitions, including an Early CAREER Award from the National Science Foundation, a Beckman Young Investigator Award, the Mid-Career Award from the American Electrophoresis Society, and election as a Fellow of the American Physical Society. Graduating seniors added another honor to Squire's list, selecting him for the 2023 Outstanding Chemical Engineering Faculty Award. 
"What a surprise this was," said Squires, who joked that he had an unfair advantage over his colleagues because he never had to teach the 2023 class over Zoom. "I am really grateful. Teaching, advising, and mentoring undergraduates is one of my greatest privileges — particularly with this group of talented, engaged, and fun students."
Squires investigates a range of topics in micro-scale fluid mechanics and transport, both experimentally and theoretically. His specific areas of interests include linear, nonlinear, and interfacial microheology, and theoretical, experimental, and computational studies of electrokinetics and ion transport for flow manipulation and energy storage. 
Outstanding Teaching Assistant
Chemical engineering PhD student Varun Hegde has worked as a teaching assistant since he discovered a love for teaching as an undergraduate student at Columbia University. He continued to TA undergraduate courses while he completed his master's degree in chemical engineering at Columbia, and as he pursued his PhD at UCSB. Last year, he co-taught an undergraduate course on transport science/fluid mechanics, which is his area of research, with a faculty member as part of the CSP Technologies Teacher-Scholar Fellowship. Hegde said that finding out seniors selected him for their Outstanding TA Award was a huge honor. 
"It's a very big deal. I am extremely happy, and I'm super honored, especially since I haven't taught a course since last year," said Hegde, who is co-advised by chemical engineering professors Todd Squires and Michael Doherty. "It feels nice to know that the teaching experience resonated with my students enough that they would vote for me a year later."
Hegde expects to complete his PhD in the fall, after which, he plans to work in industry.