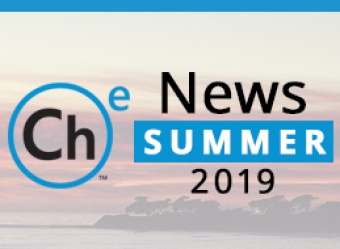 Check out our Summer 2019 e-newsletter!
The faculty and students of the Department of Chemical Engineering at UC Santa Barbara have continued to make great strides throughout the year.
Recognizing Department Chair Professor Rachel Segalman, as well as faculty members, Professors Michael Doherty, Scott Shell, and Michael Gordon with Endowed Chairs. Plus, student features on Kimberlee Keithley, Daniel Chu, Dorian Bruch, and Grad Francis Cunningham honored with prestigious Graduate Fellowships, Carolina Espinoza with Tirrell Award, and Dorian Bruch with Outstanding Senior Award, George Degen wins UCSB Grad Slam, and congratulations to ChE's 2018-19 Graduating Class!
Click on the link below to view the e-newsletter and feature stories!
UC Santa Barbara Chemical Engineering Summer 2019 E-Newsletter
Melissa Walker is the Communications Coordinator for the Department of Chemical Engineering.