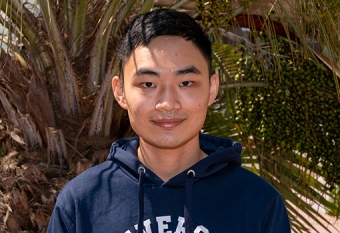 UC Santa Barbara chemical engineering faculty members have awarded the department's top honor for a rising third-year PhD studentt, the prestigious Dow Discovery Fellowship, to Chieh Wang. The department awards one fellowship each year to a student who has made outstanding strides in research and presents a compelling plan for a creative high-risk, high-reward project. The fellowship is made possible by a generous contribution from the Dow Chemical Company. The three-year, $150,000 fellowship is designed to support students over the remaining three years of their graduate work. 
"Receiving the Dow Fellowship is an incredible honor for me, both personally and professionally, especially knowing how impressive the work of my colleagues is," said Wang, who earned his bachelor's degree in chemical engineering at National Taiwan University. "I am extremely grateful for the support of my advisors, my committee members, my mentor, Rob Piscopio, my fellow lab member, and my graduate student peers."
Wang is co-advised by Siddharth Dey, an assistant professor of chemical engineering and bioengineering, and Max Wilson, an assistant professor of molecular, cellular, and development biology. His research focuses on developing a novel spatially resolved single-cell transcriptomics technology that can be applied to live cells at high spatial resolution. The new method, termed scSTAMP-seq (single-cell spatial transcriptomics and multiomics profiling), uses light to encode positional information of cells within a tissue. He designed cholesterol-tagged photo-sensitive hashtag DNA oligonucleotides (PHOs), which embed into the membrane of live cells and are composed of inner- and outer- DNA segments linked by a photo-sensitive moiety that cleaves when illuminated with UV light. 
"My preliminary results show that the extent of PHO cleavage is proportional to light exposure," said Wang. "Therefore, by precisely controlling spatial gradients of light onto a tissue using a digital micromirror device, I can 'stamp' the spatial coordinates of cells, and then quantify the PHO cleavage and mRNA from individual cells by sequencing. This process enables spatially resolved single-cell transcriptomics." 
The Dow Fellowship will enable Wang to build on his initial findings by developing an automated high-throughput and high-resolution spatial transcriptomic method for live cells. His project has two main goals: to develop strategies for high-resolution spatial profiling, and to develop and integrate an automated fluidic system for high-throughput spatial transcriptomics that is easy to operate, user-friendly, and has the potential to be adopted for broad scientific applications.
"What I really enjoy about the process of developing a novel technique is the process of starting from scratch and brainstorming ideas," said Wang. "There are so many things and directions that you can try to optimize this technology, from chemistry and engineering to biology. And there are so many possible solutions to the problems encountered along the way. You just need to try, and I can't wait to get to work."
Wang's project could allow researchers to capture and analyze the dynamic behavior of cells from new perspectives and provide insight into the differences in gene expression of cells that perform dynamic behaviors. For example, his work would allow scientists to understand how the function of a stem cell is influenced by neighboring cells within a tissue. 
"This is an exciting though challenging project that requires innovations in microscopy, fluidics, chemistry, and sequencing," said Dey, Wang's co-advisor. "Chieh is one of the most inquisitive and innovative students I have worked with, and the novel approaches he has proposed as a part of the Dow Fellowship, combined with his training in chemical engineering and microfluidics, will be key to developing this new technology that can have significant impact in different areas of biology. I'm looking forward to all the breakthroughs Chieh makes as a Dow Discovery Fellow!"