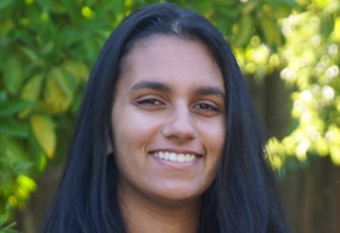 Chemical engineering major Vedika Shenoy is the recipient of UC Santa Barbara College of Engineering's 2022 Tirrell Award for Distinction in Undergraduate Research. The annual award, named in honor of the college's former dean, Matthew Tirrell, recognizes a graduating senior who showed excellence and promise as a researcher during his or her academic career. 
"I am proud of what I've been able to accomplish over the last three and a half years, and I am very honored to be recognized for the research that I've worked on," said Shenoy, who is graduating with honors and a chemical engineering degree. "I'm grateful for all the opportunities to collaborate with and be mentored by other researchers at UCSB and could not have accomplished all of this without the support of my research advisors and mentors." 
Since her freshman year, Shenoy has participated in several types of research projects under the supervision of mechanical engineering professor Megan Valentine and chemical engineering professor Matt Helgeson. First, she worked on developing a microfluidic platform for high throughput characterization of complex fluids. She focused on the fabrication aspect of microfluidics and adapted a widely used microfluidic mixer so that it could be produced via 3D printing, an attractive alternative to conventional techniques because it reduced the fabrication time from days to hours. She was first-author of a paper that was published in the open access journal BioTechniques, and she presented her work during the 2020 American Institute of Chemical Engineers (AIChE) Annual Conference, winning an award in the Student Poster Competition. Shenoy later worked on the development and characterization of differential dynamic microscopy (DDM), which is a form of video analysis in which the properties of a material can be assessed using videos obtained from a simple optical microscope. She also conducted research through programs offered by the Materials Research Laboratory, the Future Leaders in Advanced Materials (FLAM) and the Research Interns in Science and Engineering (RISE). 
"It has been extremely exciting to work on novel problems and make scientific contributions that are useful to other researchers," said Shenoy, who is graduating with high honors. "The interdisciplinary research collaborations have been incredibly enriching for me and exposed me to different approaches to problem solving than those that I've developed as a chemical engineering major."
Shenoy will begin her career as a scientist in the Research and Development Department at Clorox in August.