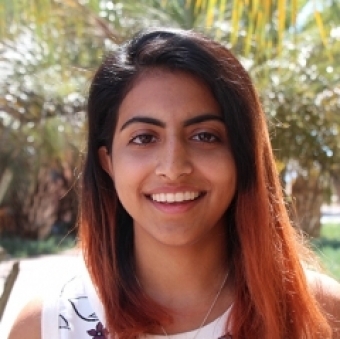 Department of Chemical Engineering graduate student, Tanvi Sheth, Helgeson Lab, has been awarded a Mitsubishi Chemical Fellowship from the Mitsubishi Chemical Center for Advanced Materials for the period 2019-22.
"The fellowship competition this year was impressive and the applicants highly accomplished," said Scott Shell, Professor and Vice Chair of Graduate Affairs. "The faculty were particularly impressed by the research progress and ingenuity of each of the candidates. I regret that we don't have more fellowships to award."
The Mitsubishi Chemical Center for Advanced Materials (MC-CAM) is an interdisciplinary materials research center that commenced operations in May 2001 at the University of California, Santa Barbara. The Center enables a research partnership between the Mitsubishi Chemical Corporation (MCC) and the greater materials science community housed in UCSB's College of Engineering and physical science departments.
"I am extremely honored to have been awarded a Mitsubishi Chemical Fellowship and am thankful to all the faculty, and especially those on my committee, for supporting my research project and plans," Sheth said. "This recognition and funds will both significantly assist and motivate me to push myself in pursuit of my research goals."
Sheth's research focuses on advancing techniques and available tools for engineering multi-compartment nanoparticles, specifically by using multi-nanoemulsions.
Working in the Helgeson group has provided Sheth with the opportunity to employ a number of advanced experimental techniques with neutron scattering and electron microscopy to characterize nanoscopic materials. 
"Utilizing liquid cell transmission electron microscopy to obtain in situ observations of soft organic material is made difficult by the material's electron beam sensitivity," she shared. "However, I am excited by the chance to be at the forefront of advancements made in using this instrument."
Formation of this type of nanoparticle has important relevance to pharmaceutical formulations. A majority of leading or newly discovered drugs are water-insoluble, and are not easy to manufacture for oral drug delivery.  
"We have developed methods for generating core-shell multi-nanoemulsions consisting of droplets of radii less than 100 nm with an oily core surrounded by a water shell," Sheth said. "We hypothesize that these droplets enable the formation of nanoparticles consisting of a water-insoluble crystal protected by a polymeric shell."
Sheth advises new graduate students to find a balance between critique and measuring accomplishments.
"There is value in struggling and facing challenges to grow, but there is also value in celebrating the smaller achievements and not being too hard on yourself," Sheth said.
When she's away from the lab, Sheth pursues creative forms of visual art and design.
"I've been trying to paint more, and meet local artists who can teach me new techniques," Sheth shared.
Sheth acknowledges the support within the department and the Helgeson lab to provide opportunities that otherwise have a barrier to entry. 
"Wishing Tanvi and all of our graduate students continued creativity, discovery, and success in their doctoral studies," said Professor Shell. ChE
Melissa Walker is the Communications Coordinator for the Department of Chemical Engineering.