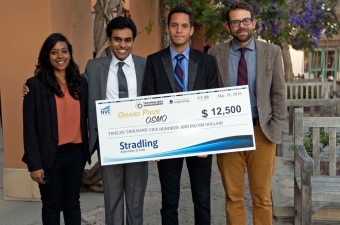 Congratulations to UCSB Chemical Engineering grad student, Rahul Sangodkar, one of the members of the 2016 grand prize winner of TMP's New Venture Competition, Osmo!
OSMO, a company started by UCSB students Kyle Neumann, Rahul Sangodkar, Edixon Puglisi and Anjana Krishnan, took home the grand prize of $12,500 for their advanced and versatile portable water sampling instrument following a day of pitching ideas and demonstrating technical and business expertise to a room full of peers, mentors and tech entrepreneurship veterans.
To read more about OSMO and the UCSB Technology Management Program's (TMP) New Venture Competition, the full article can be found here.