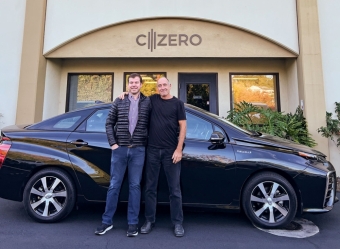 Tuesday, November 30, 2021
C-Zero, a start-up co-founded by UC Santa Barbara chemical engineering professor Eric McFarland, is one of the ten companies profiled by Chemical and Engineering News' (C&EN) 10 Start-Ups to Watch for 2021.
C-Zero developed a high-temperature liquid that catalyzes the pyrolysis of methane, generating hydrogen and elemental carbon. Rather than producing carbon dioxide that heats the atmosphere, C-Zero produces low-cost hydrogen and solid carbon that can be sold or buried underground.
Based in Goleta, C-Zero employs about sixteen people, several of them former undergraduate students of McFarland, who is the company's chief technology officer and co-founder.
Click here to read the article and learn more about C-Zero.