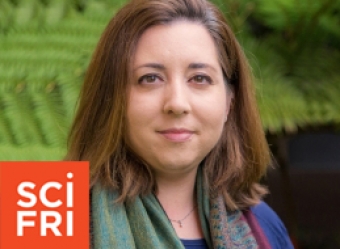 Check out Professor Michelle O'Malley's appearance on Science Friday with host Ira Flatow. Prof. O'Malley was live on Friday, March 23, 2018, where she spoke about her lab's research into using gut microbes for biotechnology. 
"I'm a chemical engineer and that means that I want to harness the power of nature for producing useful products for humanity," O'Malley said during the broadcast. 
Professor O'Malley discusses her group's collaboration with the Santa Barbara Zoo, where they isolate waste-degrading fungi & bacteria from the feces of large herbivores (e.g. goats, sheep). After isolating these unusual microbes, the O'Malley Lab works to understand the enzymes that are made by the microbes so that they can develop scaleable technologies for converting plant waste into fuels, chemicals, and even new pharmaceuticals.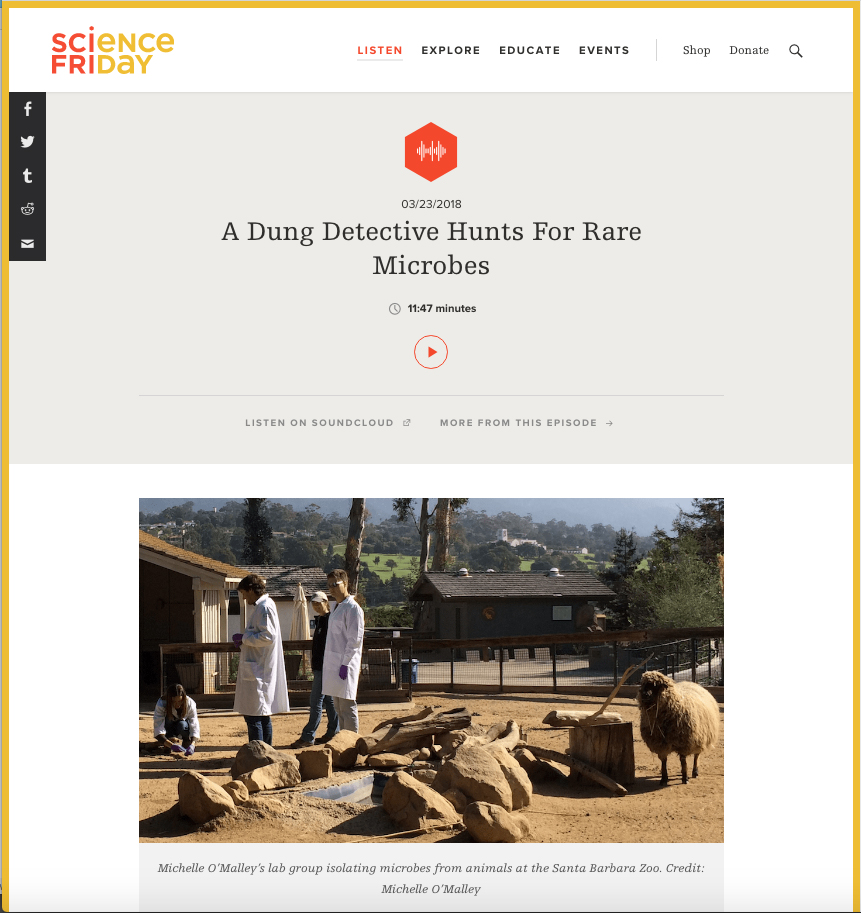 In the 11 minute 47 second segment, titled "A Dung Detective Hunts For Rare Microbe," Professor O'Malley also shared notes from her recent talk at at the American Chemical Society (ACS) conference in New Orleans, LA, on March 19, 2018, where she was honored with a Rising Star Award. The discussion included insight on how microbes form unique bonds with one another to form a combination of friends, enemies, and "frenemies." 
Science Friday airs every Friday providing radio and Internet listeners around the world with an informative discussion on science, technology, health, space, and the environment. 
In addition to the Rising Star Award, O'Malley was honored, in 2017, with the ACS Polymeric Materials: Science and Engineering Young Investigator Award, and was named a Scholar by the Henry & Camille Dreyfus Foundation. Professor O'Malley has also been honored with the 2016 Presidential Early Career Award for Scientists and Engineers, 2015 National Science Foundation CAREER Award, 2015 Cottage Health - UCSB Special Research Award, 2015 MIT Technology Review Top 35 Innovators Under 35, 2014 TechConnect Innovation Award, and 2013 U.S. Department of Energy Early Career Award. ChE
– Melissa Walker is the Communications Coordinator for the Department of Chemical Engineering