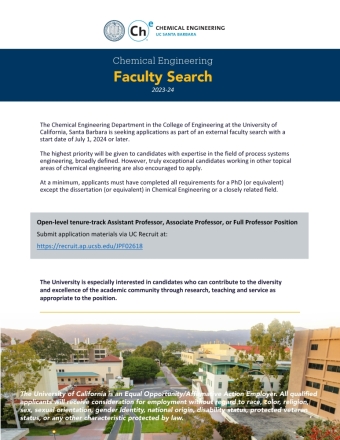 Wednesday, October 18, 2023
Faculty Search 2023-24
The Chemical Engineering Department in the College of Engineering at the University of California, Santa Barbara is seeking applications as part of an external, open-level search for a tenure-track Assistant Professor, Associate Professor, or Full Professor position. The highest priority will be given to candidates with expertise in the field of process systems engineering, broadly defined. However, truly exceptional candidates working in other topical areas of chemical engineering are also encouraged to apply.
Open-level tenure-track Assistant Professor, Associate Professor, or Full Professor Position
Submit application materials via UC Recruit at:
https://recruit.ap.ucsb.edu/JPF02618
The University is especially interested in candidates who can contribute to the diversity and excellence of the academic community through research, teaching, and service as appropriate to the position.
The University of California is an Equal Opportunity/Affirmative Action Employer. All qualified applicants will receive consideration for employment without regard to race, color, religion, sex, sexual orientation, gender identity, national origin, disability status, protected veteran status, or any other characteristic protected by law.
Salary range: The posted UC system-wide salary scales set the minimum pay determined by rank and step at appointment. See Table 3 for the salary range at UCSB. A reasonable estimated full-time rate for this position at 100% time is $103,700-$350,000. "Off-scale salaries", i.e. a salary that is higher than the published system-wide salary at the designated rank and step, are offered when necessary to meet competitive conditions.
Anticipated start: July 1, 2024 or later