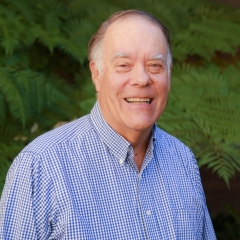 Professor Emeritus
Research Professor
Contact
3326 Engineering II
University of California, Santa Barbara
Santa Barbara, CA 93106-5080
Honors:
2018 Nordic Process Control Award
2016 Elected Fellow of International Federation of Automatic Control
2008 Elected to the Process Automation Hall of Fame
2008 Co-recipient of the Best Application Paper Award from the Journal of Process Control
2008 Honored by a Festschrift in the Journal of Process Control
2004 Elected Fellow of AIChE
2004 Plenary Lecture, Control Systems 2004, Quebec City, Canada
1999 Semi-Plenary Lecture, 1999 European Control Conference, Karlsruhe, Germany
1994 Statistics in Chemistry Award, American Statistical Association (shared with W.E. Larimore, A. Kemna, C.D. Schaper and D.A. Mellichamp)
1994 Plenary Lecture, Control '94 Conference, Coventry, UK
1993 Education Award, American Automatic Control Council.
1992 Tau Beta Pi Teaching Award for the Dept. of Chemical and Nuclear Engineering, UCSB.
1990 Meriam-Wiley Distinguished Author Award, American Society of Engineering Education (shared with T.F. Edgar and D.A. Mellichamp)
1988 Plenary Lecture, 12th Brazilian Congress on Chemical Engineering, Porto Alegre, Brazil
1980 Technical Achievement Award, Southern California Section of the American Institute of Chemical Engineers.
1973 Best Paper Award, 1973 Joint Automatic Control Conference, Columbus, OH (shared with R.G. Wilson and D.G. Fisher).
Research Description:
Because I am retired, my current research activities are rather limited and I no longer supervise graduate students. My research is concerned with the development of improved techniques for process control, process monitoring, and system identification. The research involves a balance of theoretical analysis, process simulation, and experimental applications.
Education:
BS: Chemical Engineering, University of Wisconsin
PhD: Chemical Engineering, Princeton University