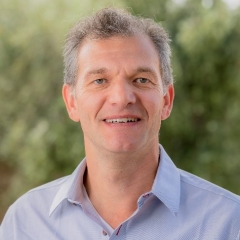 Honors:
2016 College of Science Engagement Award, Purdue University
2014 Bold Aspirations Lecturer, The University of Kansas
2014 Lecturer, 7th Negishi-Brown Lectures
2013 Xing Da Lecturer, Peking University
2013 Chair, Gordon Research Conference on Inorganic Reaction Mechanisms
2013 Crano Memorial Lecturer, ACS Akron Section
2012 Elected Fellow of the American Association for Advancement of Science (AAAS)
Research Description:
Our research group works at the interface of chemistry, chemical engineering and catalysis to address outstanding issues in energy science, sustainability and green chemistry. We create the science for providing renewable and recyclable alternatives to materials made from petro-chemicals.
Our group has made advances in depolymerization of lignin selectively to biophenols and the use of these monomers to make thermoset plastics that can be chemically recycled. We investigate how catalysts can improve biomass conversion and how monomer structure affects the thermal and mechanical properties of materials.
Polymers have provided humanity with tremendous benefits from food preservation through packaging to impressive fuel efficiency because of light weight advantage. However, a growing plastics waste problem is requiring creative chemistry to provide recyclable materials and chemical upcycling of currently in use plastics, polyolefins. We have ongoing effort in catalytic upcycling of polyethylene to make high-value chemicals.
Our group is part of the Energy Frontiers Research Center on Materials for Water and Energy Systems. We design and prepare polymers containing active sites for capture and release of resources from produced water.
A common theme in our research group is catalyst design based on understanding of mechanisms on the molecular scale. Graduate students and postdocs in the group are given the freedom to tailor their own projects and are encouraged to collaborate with faculty and peers in other research groups on campus with whom we share common scientific interests.
Education:
BS: Hampden-Sydney College (1992)
PhD: Iowa State University (1996)
Postdoc: Caltech (1996-97)