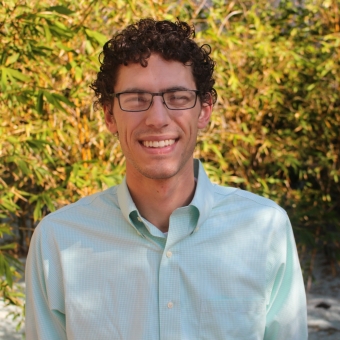 Wednesday, November 30, 2016
Graduate Student Matthew Idso of the Chmelka Group was the winner of the 2016-2017 Schlinger Fellowship for Excellence in Chemical Engineering Research. We asked Matt a few questions about his research, choosing UCSB to pursue his PhD, and advice he has for high school students and undergrads interested in a similar path. Read on to see what he had to say!
What is your area of study?
I study self-assembled materials systems that incorporate functional molecular guest species. 
What kind of projects or research are you currently working on? And what do you find most exciting about it?
My research focusses on new inorganic-organic composite materials that harness a biological molecule, called proteorhodopsin, for solar energy conversion. To me, the most fascinating aspect of this project is that developing these bio-inspired materials has relied on considering both the biological and materials components, which must be compatible to enable solar energy conversion. As a result, I've had the opportunity to learn and apply a broad variety of characterization techniques to yield insights into the inorganic-organic composite materials, the biological molecular guests, and the synergy between these two components.
Why did you choose to come to UCSB?
I chose to attend UCSB because of the outstanding research facilities, top-notch faculty, and strong inter-disciplinary culture. In my research experience, the research facilities here at UCSB have allowed me to test almost every hypothesis I have formed. Moreover, discussions with UCSB faculty inside and outside the department have never been lacking and have greatly benefitted my research. And the highly collaborative research atmosphere has gotten me engaged in research projects with groups across campus as well as the global research community.
If a high school or undergrad student wanted to do what you do today, what is the best way to get there? What advice do you have to offer for high school students or undergrads who are trying to figure out what they want to do?
The best advice I could give to younger students is to be proactive about pursing your passions and to persevere when such pursuits become difficult. During college, proactivity helped me to discover a passion for chemical engineering and to explore undergraduate research opportunities, which subsequently led me to continue research in graduate school. While the coursework and research were challenging, I found that working through the difficulties solidified my knowledge and reinforced my desire to study engineering.
Thanks, Matt!
Further Reading