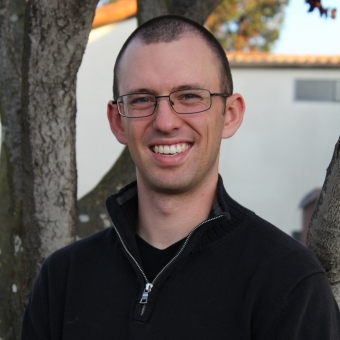 Wednesday, January 4, 2017
Graduate Student Joseph Peterson of the Leal and Fredrickson Groups was one of two students awarded a CSP Technologies Teacher-Scholar Fellowship for 2016-2017. We asked Joe a few questions about his research, what got him interested in teaching, and advice he has for high school students and undergrads interested in a similar path. Read on to see what he had to say!
What is your area of study? 
Broadly speaking, I study complex fluids in flow.
What kind of projects or research are you currently working on? What do you find most exciting about it? 
Most of my work is related to flow induced demixing in polymer melts and solutions.  One of our most exciting results so far has been to show that (for certain limiting cases) the dynamics of a flow induced demixing event can be mapped to the dynamics of a quiescent (no flow) demixing event.  This is not an unexpected result, but a complete mapping has eluded discovery for a very long time.
What got you interested in teaching? What have you learned so far from teaching an undergraduate class? What do you hope to get out of the experience? 
I think I've always been interested in both teaching and research, so I'm really excited to be pursuing a career path that gives me an opportunity to engage with both passions.  This past quarter, I have had the opportunity to co-teach numerical methods with Dr. Mike Gordon.  Through this time, I've learned how to plan lectures, how to design balanced homeworks/exams, and how to manage board-space during a lecture (it's harder than it sounds!).  Mostly, I've learned a realistic perspective for the balance of responsibilities involved in teaching an undergraduate course, and I think that's both valuable to have and hard to learn outside of first-hand experience.
Why did you choose to attend UCSB? 
I chose to attend UCSB over several other schools because of the quality and quantity of faculty invested in soft materials research.
If a high school or undergrad student wanted to do what you do today, what is the best way to get there? What advice do you have to offer for high school students or undergrads who are trying to figure out what they want to do? 
First, I would say to take lots of math classes, practice your writing, and find opportunities to work with your hands.  These are the tools you need to communicate and create in almost any STEM field, engineering included.  Find fun ways to practice these skills, or else even if you excel they will still feel like work. Second, you need to pursue valuable opportunities and make the most of them.  This means taking classes that challenge you, and working to master the material in those classes.  It also means finding a kind of 'internship' position in your field and fully owning the responsibilities entailed.  Don't forget to look for opportunities overseas as well – there's a big world out there. Third, find support through a healthy balance of interpersonal relationships.  Family, friends, and mentors will encourage you and help keep you sane when school/work becomes crazy.  With their support, you will accomplish much more than you ever could do alone.
Thanks, Joe!
FURTHER READING