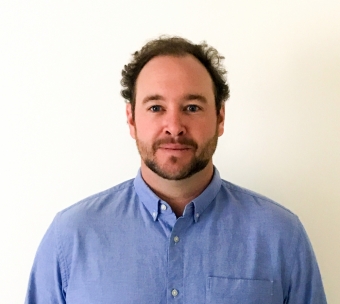 Thursday, November 16, 2017
In the constant pursuit of new innovations, the recent appointment of Phillip Christopher, PhD, as an Associate Professor and Mellichamp Cluster Chair of Sustainable Manufacturing, provides well-positioned training for the next generation of chemical engineers to understand issues in sustainability. 
"Phil provides a unique perspective on catalytic reactions by combining atomic control with theoretical insights," said Mahdi Abu-Omar, Mellichamp Cluster Chair Green Chemistry, Professor of Chemistry and (by courtesy) Chemical Engineering. "He also has the reaction engineering perspective covered, where the intersection of new science and potential energy applications can be realized."
Christopher is the recipient of various honors, including the 2012 Young Scientists Award from the International Congress on Catalysis, 2014 Army Research Office Young Investigator Award, and 2016 National Science Foundation Early CAREER Award.
His expertise is in designing new routes to decarbonize our economy, using solar energy and renewable carbon to replace the fossil fuels which currently provide most of our energy and raw materials for manufacturing. This goal requires engineers to think about how society will obtain its energy in the future, and it is a particular preoccupation of the chemical engineers who specialize in the interconversion of energy and matter. 
"Phil is well-positioned to train the next generation of chemical engineers to understand issues in sustainability, and to generate new manufacturing solutions that involve better management of our natural resources," said Susannah Scott, Chemical Engineering Department Professor, and Mellichamp Cluster Chair, Sustainable Catalytic Processing. 
"The most important honor I have received is seeing my students become excellent scientists and engineers."
Growing up in Southern California, he chose UC Santa Barbara for his Bachelor's degree, where he was energized by the quality of life and the educational experience in the Department of Chemical Engineering.
"It is an honor to return, and be able to educate and inspire new generations of students who sit in the same seats I did," Christopher said. "The most important lesson I took from my Bachelor's degree was that dedication, and hard work, are absolutely required for success in this field. The enthusiasm displayed by many professors at UCSB was contagious. I can't imagine any other university that combines the highest quality faculty, facilities, and culture, with the most beautiful location."
The inspiration from this experience led him to pursue graduate school, and eventually to return to the Santa Barbara campus as a member of the faculty.
"Taking classes with world-renowned experts, some of whom literally wrote the books on the subjects, and getting the opportunity to be a part of this educational culture in the Chemical Engineering department at UCSB, was a significant draw in my decision to return," Christopher shared.  
Professor Christopher completed his Bachelor of Science degree at UC Santa Barbara in 2006, and transitioned to the University of Michigan, where he received a Master of Science in 2008, and PhD in 2011, both in Chemical Engineering. He joined the University of California, Riverside in September 2011, as an Assistant Professor with joint appointments in the Chemical & Environmental Engineering Department, and Materials Science & Engineering Program.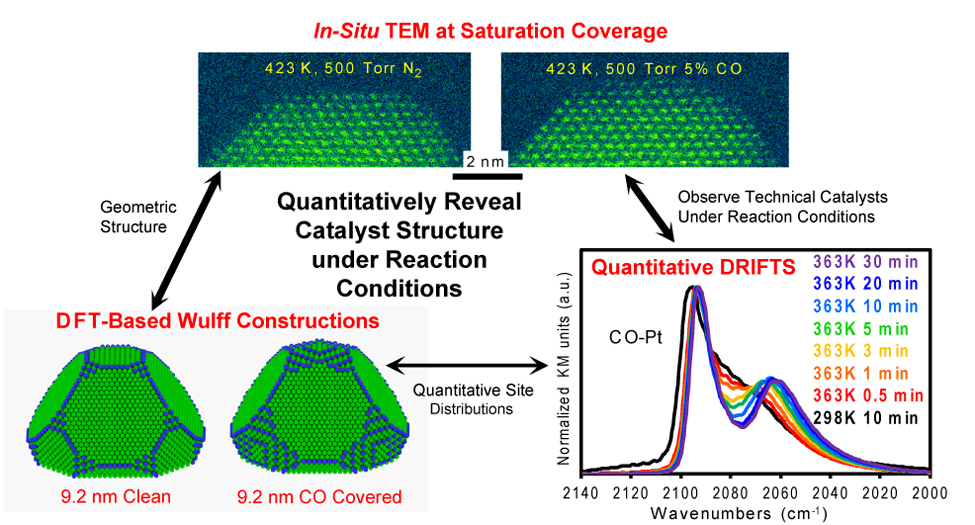 A schematic of the Christopher Group's approach for understanding physical transformations of catalysts by correlating in-situ Scanning transmission electron microscopy (STEM), Diffuse reflectance Fourier Transform Infrared Spectroscopy (DRIFTS) and Density Functional Theory (DFT) calculations. In this example, the approach is applied to understanding how CO reconstructs Pt nanoparticle surfaces, which is relevant for the operation of automotive catalytic convertors.Utilizing an approach to develop detailed insights into how and why certain catalytic materials facilitate a given reaction, the group aspires to use these insights to design new materials
A broad focus of his research is sustainability, another connection that drew him to return to UC Santa Barbara, with "the opportunity to work with a great group of faculty members dedicated to the broad area of sustainability," he said. "Promoting sustainability in the use and re-use of Earth's natural resources is one of the most important issues we face as a society."
As part of the Mellichamp Academic Initiative in Sustainable Manufacturing, Christopher will have a role in the sustainable use of materials, including the (re)design of products to maximize their sustainability, an area of immense and rapidly growing environmental and economic importance. 
"The Initiative was created by many faculty members in chemical engineering, including Professors Scott and Abu-Omar who are co-leaders of the Initiative," said Scott. "It also reaches across the campus, via interdisciplinary collaborations with faculty members in chemistry, materials, environmental science, and science communication. Phil's presence will enhance our existing research efforts in catalysis, biomass conversion, solar energy conversion, CO2 reduction, and others."
The development of environmentally friendly production routes to fuels and chemicals, as well as sustainable consumption technologies, is a challenging and complex venture.
 
"Moving forward we need to understand that our environment should be the most important driver motivating the use of new resources, or more environmentally friendly processes, for producing fuels and chemicals," Christopher said.
 
Santa Barbara is one of the original and leading areas for environmental consciousness and programs, and returning to this impactful community of leaders will encourage the Christopher Group to pursue new synergies in collaborations at UC Santa Barbara.
"Collaboration with Professor Christopher, and his research group, will open new synergies for making renewable chemicals and designing sustainable chemical technologies," said Abu-Omar.
The Abu-Omar Research Group focuses on the development of inorganic catalysts and their reactions in the context of green chemistry.
"Getting to work with people across the UCSB campus on facilitating their ideas, developing new ideas, and advancing my own ideas, will hopefully open new solutions to tough problems," Christopher said.
The Christopher Group widely focuses on the development and understanding of heterogeneous catalytic processes applied to the production of fuels and chemicals for environmental pollution control.
The Group aspires to develop detailed insights into how and why certain catalytic materials facilitate a given reaction, and to use these insights in the design of new materials.
"Our hope is to develop insights that allow the design of new catalytic materials, with reduced requirements for the use of expensive precious metals that are in low-abundance in the earth's crust," Christopher said.
Looking ahead, the group is beginning to explore approaches to drive industrially important reactions that currently require expensive, and sometimes environmentally unfriendly, processes.
"We are looking at the possibility of achieving these goals by designing catalysts with atomic precision, and also by using photons – perhaps from a solar energy flux – to facilitate high selectivity in difficult reactions."
Christopher welcomes the opportunity to share his experiences with students who have the same goals for the intersection of new science and potential energy applications.
"The most important honor I have received is seeing my students become excellent scientists and engineers." ChE
1 Journal of the American Chemical Society, 2017, 139 (12), pp 4551–4558.
Melissa Walker is the Communications & Seminar Coordinator/Faculty Assistant for the Department of Chemical Engineering.