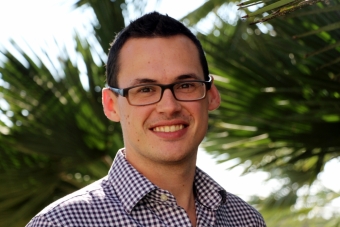 Wednesday, December 12, 2018
The faculty of the Department of Chemical Engineering have awarded Scott Danielsen the Schlinger Fellowship for Excellence in Chemical Engineering Research for the period 2018-19, as evidenced by publications, submitted manuscripts or other measures of impact. 
"Congratulations to Scott on his outstanding application package and performance in our graduate program," said M. Scott Shell, Department of Chemical Engineering Professor and Vice Chair for Graduate Education.
Established through a generous gift from Warren and Katharine Schlinger, the award recognizes outstanding accomplishments in doctoral research in Chemical Engineering. The Fellowship is open to all graduate students in their fourth or fifth year of the doctoral program in the Chemical Engineering Department at UC Santa Barbara, and is not restricted to any particular areas of research.
The Schlinger Fellowship acknowledgement is an honor for Danielsen, whose speculative research approach worked on a number of high-risk problems in relatively unexplored areas.
 
"Luckily, with hard work and the involvement of many mentors in ChE, across campus, and around the world, it has turned to relatively successful, with hopefully a number of impactful publications coming out shortly," Danielsen exclaimed. "Recognition from the Schlinger Fellowship is a testament to this, and the funds will allow me to present my research at upcoming conferences."
Danielsen is part of the Segalman and Fredrickson Labs, and was a Best Talks winner at the 11th Annual Clorox-Amgen Graduate Student Symposium held on October 8, 2018.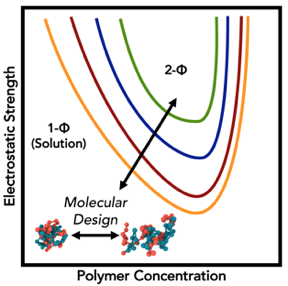 His current research focus is on the assembly of charge-containing polymers in aqueous solutions – understanding the balance of charge – charge interactions and excluded volume interactions on their thermodynamics and structure.
"A central element to this work has been on coacervation, a liquid–liquid phase separation, using theoretical approaches to study polyampholytes including biomacromolecules, such as intrinsically disordered proteins, as well as applying the resulting dense liquid phase as inks in the roll-to-roll printing of organic semiconductors," Danielsen shared.
One of the more challenging aspects of his research is describing to a general audience how two seemingly disconnected topics – organic semiconductors and intrinsically disordered proteins – can actually be intimately connected and approached as a cohesive research question. 
"Explaining these discrepancies is the most challenging part of my work, but also the kernel of what makes it interesting," Danielsen said. "I approach my research as a creative endeavor, by making these cross-sub-field comparisons, it's possible to appreciate the subtleties and see where the analogies can help solve seemingly unsolvable problems in other disciplines."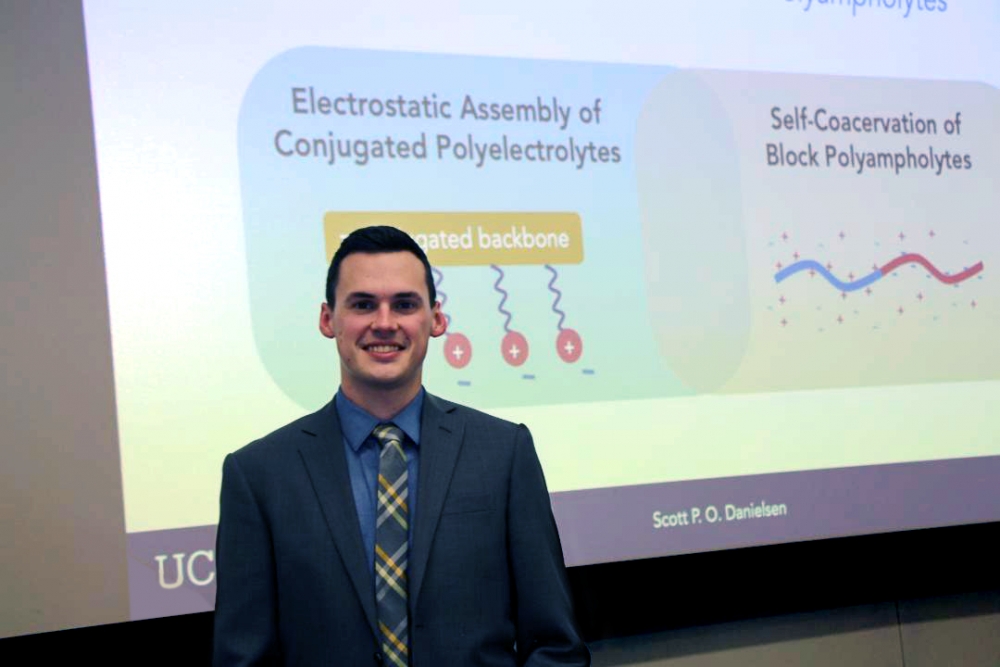 The Segalman Group researches structural control over soft matter on a molecular through nanoscopic lengthscale, which is a vital tool to optimize properties for applications ranging from energy to biomaterials. The Segalman Group works to both understand the effects of structure on properties and gain pattern control in these inherently multidimensional problems, with a particular interest in materials for energy applications such as water filtration membranes, batteries, and thermoelectrics.
The Fredrickson Group conducts a broad range of research activities in theoretical and computational polymer science, many of these aimed at understanding self-assembling polymers and complex fluids, and especially block copolymer systems. A computational tool that is unique to the group is the "Field-Theoretic Simulation" technique, which is a numerical procedure for simulating statistical field theory models of complex polymer formulations. The group also maintains strong interactions with experimental teams in academia and industry throughout the world.
Danielsen reminds incoming Chemical Engineering graduate students that a PhD is hard work, but that it's also important to prioritize well-being. 
"Not only is the path to success different for everyone, but so is the very nature of what success entails," Danielsen shared. "For me that has been not only a healthy work-life balance, but more importantly work-life separation, allowing me to give both friends or family and work my full attention at the appropriate times."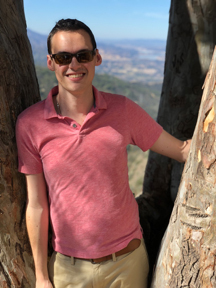 Spending time in Santa Barbara has also taught Danielsen to appreciate a fine glass of wine. 
"With so many beautiful vineyards out in the Santa Ynez Valley and fun pouring rooms in town, a tasting flight is a great opportunity to de-stress on a Saturday afternoon," he said. 
 
Danielsen will start the new year in the Department of Mechanical Engineering and Materials Science at the Pratt School of Engineering, Duke University, to begin a post-doctoral associate position with Michael Rubinstein, where his research "will center on the theoretical prediction of mechanical properties of various polymeric systems with a focus on assemblies of biological polymers," Danielsen detailed. 
The applications for the fellowship were extremely impressive, and all of the applicants represented Chemical Engineering at the highest level of performance.
"I regret that we don't have more fellowships to award," Shell said. "Wishing Scott and all of our graduate students continued creativity, discovery, and success in their doctoral studies." ChE
Melissa Walker is the Communications Coordinator for the Department of Chemical Engineering.